Saxophonist Crispin Cioe plays "Winterfest" during an amazing week of island fun and concerts at Mango's Beachfront Resort in Jamaica. "Winterfest" celebrates the life and music of Johnny Winter and features an A-List of today's top national acts: Sonny Landreth, Samantha Fish, Paul Nelson Band, Derek St Holmes, and James Montgomery And The All-Star Band.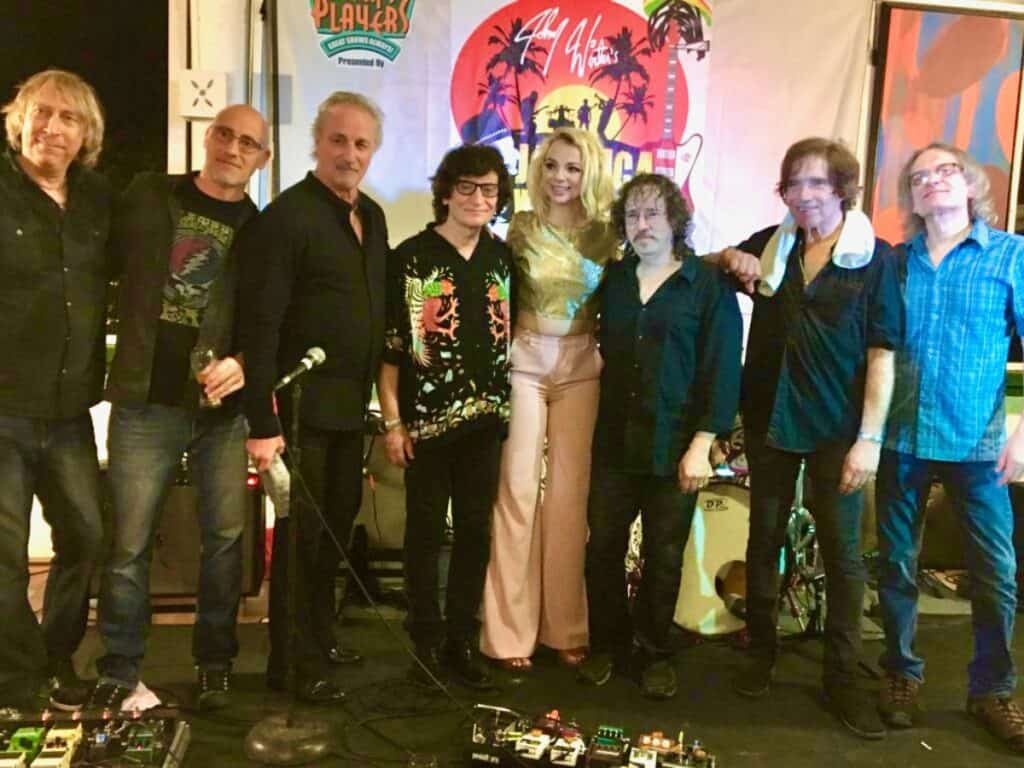 About Crispin Cioe (Saxophone)
Crispin Cioe plays winterfest as an expert alto, tenor, and baritone saxophonist. He is a co-founder of The Uptown Horns, a leading horn section that has toured or recorded with artists including The Rolling Stones, Peter Wolf, Solomon Burke, J. Geils Band, James Brown, Joe Cocker, Tom Waits, Iggy Pop, and many more.
About Sonny Landreth (Slide Guitar and Vocals)
Eric Clapton has said that Sonny Landreth is one of the most advanced guitarists in the world. Sonny has collaborated with the very top names in guitar over the years: Eric Clapton, Mark Knopfler, Eric Johnson, Derek Trucks, and more The noted slideman cut his musical teeth in The Red Hot Louisiana Band of zydeco king Clifton Chenier, and Landreth has since recorded and toured with artists ranging from John Mayall to John Hiatt.
About Samantha Fish (Singer, Songwriter, and Guitarist)

After launching her recording career in 2009, Samantha Fish quickly established herself as a rising star in the contemporary blues world. Since then, the charismatic young singer-guitarist-songwriter has earned a reputation as a rising guitar hero and powerful live performer, while releasing a series of acclaimed albums that have shown her restless creative spirit consistently taking her in new and exciting musical directions. In fact, The New York Times called Fish "an impressive blues guitarist who sings with sweet power" and "one of the genre's most promising young talents."
About Paul Nelson (Guitarist and Songwriter)

Blues and rock icon Johnny Winter hand-picked touring and recording guitarist Paul Nelson. That's just one of the accolades held by Grammy-winning guitarist Paul Nelson who has also shared the world's stages and/or recorded alongside Eric Clapton, Buddy Guy, Billy Gibbons, Slash, Warren Haynes, Derek Trucks, James Cotton, Vince Gill, Sonny Landreth, Ben Harper, and more. He is also a recipient of the Blues Foundation's KBA "Keeping The Blues Alive Award".
About Derek St. Holmes (Vocals and Guitar)

Derek St. Holmes is the voice of many classic Ted Nugent tunes including "Stranglehold," "Just What the Doctor Ordered," "Snakeskin Cowboys," "Death By Misadventure," "Live It Up" and "Dog Eat Dog" among others.

About James Montgomery (Lead Singer and Harmonica)

When blues legend James Montgomery plays the harmonica, he "brings it on home". Whether it's recording with Kid Rock, sitting in with Gregg Allman, or fronting his hot band of thirty years, Montgomery plays with authority. While growing up in Detroit he learned first-hand from the masters – James Cotton, John Lee Hooker, and Jr. Wells – at the legendary "Chessmate." Over the years, he's carried on in the tradition and continues to be a vital presence in blues as one of the most dynamic performers on the scene.