The Uptown Horns Revue Album
As recording session and touring pros, the Uptown Horns have always maintained their stellar band The Uptown Horns Revue, worked on their original songs, and performed regularly at East Coast clubs, often featuring guest stars including Willy DeVille, Peter Wolf, Catherine Russell, Joe Louis Walker, Southside Johnny, Debbie Davies, and Johnny Copeland.
This album, also titled "The Uptown Horns Revue" offers listeners a stellar cast of friends-of-the-Horns including Keith Richards, Peter Wolf, and the late great Albert Collins – performing on a bracing blast of rhythm & blues.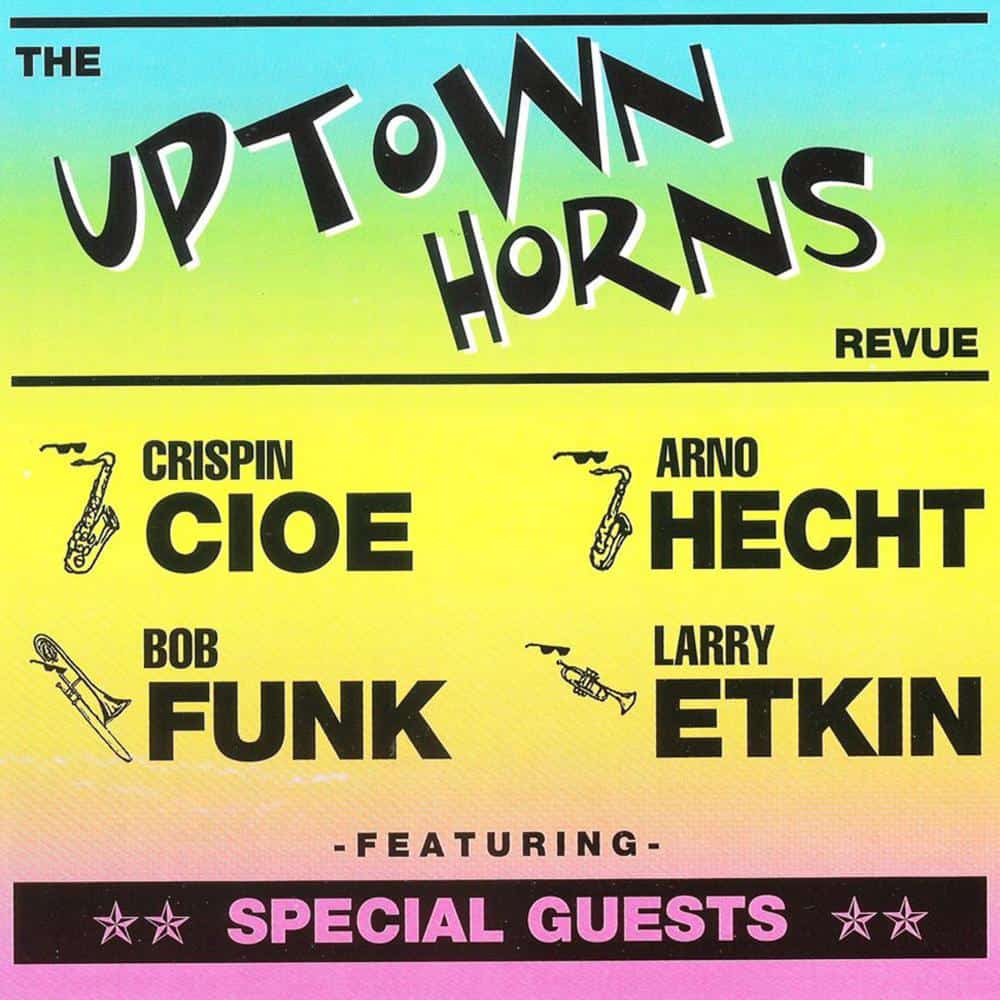 Billboard Review
"Hailed for their collaborative efforts with everyone from the Rolling Stones to RuPaul, this four-man New York brass band (Crispin Cioe, Arno Hecht, Bob Funk, and Larry Etkin on two saxes, trombone, and trumpet, respectively) puts itself and its favored instruments in the foreground on a fiery album that romps from rollicking blues to smooth R&B soul with the ease and speed of an uptown express. The billed "special guests" are indeed that, with two vocals from the late Albert Collins (including standout "Sugar Melts When It's Wet") and a collaboration-that-clicks between Keith Richards and Peter Wolf on torrid "Trust Me".

— Billboard
5-Star Reviews on Amazon
About the Uptown Horns
The Uptown Horns – saxists Crispin Cioe & Arno Hecht, trombonist Bob Funk & trumpeter Larry Etkin (who replaced Paul Litteral in 1991) formed in NYC in 1980, hosting a weekly gig/jam session at Tramp's nightclub. Within a year, "The Uptown Horns Party" was attracting large crowds, as guest jammers included Elvis Costello, Dr. John, David Johansen, Solomon Burke, Rufus Thomas, Wilson Pickett, The Neville Brothers, and many others.
At the same time, the Uptowns started doing sessions for such as Iggy Pop, Tom Waits ("Rain Dogs" LP), Bronski Beat, Joe Cocker ("Unchain My Heart"), blues icon Albert Collins, Bonnie Raitt, Lou Reed, and REM – and toured/recorded with the J. Geils Band "Showtime"/"Freezeframe" Tours), Robert Plant ("The Honeydrippers"), Robert Palmer (Power Station), Buster Poindexter ("Hot Hot Hot"), and the Rolling Stones ("Steel Wheels"/"Urban Jungle" Tours/"Stones at the MAX" film/"Flashpoint" LP).
At the same time, the Uptown Horns Revue became legendary in New York City at venues like the Ritz, Bottom Line, & the Lone Star Roadhouse, with a powerhouse band and guest stars that included Willy DeVille, Vernon Reid, Lee Dorsey, James Carr, William Bell (which yielded the much-lauded 'William Bell: Live in NYC' CD), and many others.
This album is a result of those years that the Uptown Horns spent backing and arranging for such great artists, while at the same time developing their own sound and songs.
Editorial Review of The Uptown Horns Revue
"The Uptown Horns wrote all the originals on this album (and included three rare cover tunes) to showcase the unique talents of their guest artists. The Uptowns have worked with Peter Wolf and the J. Geils Band since the "Freezeframe" era (most recently on the band's Summer 2011 tour), and have always been fans of his unique soul/rock vocals; and touring/recording with Keith Richards and the Rolling Stones gave the section a master course in horn arranging for ultimate gutbucket rock and roll. They wrote "Trust Me" for these two legends to wail on; when Wolf proclaims "you make me wanna howl!" and Keith storms in with a signature moaning sustained note followed by a barn-burning solo — it's clear the Uptown Horns hit the bullseye on this one. The song is a love song with dangerous undertones that Wolf and Richards dig into with determination and gusto.

The Horns recorded two albums with Albert Collins: "Cold Snap" and "Iceman", and toured worldwide for the latter platter. Here the band kicks off with an original blues shuffle, "Sugar Melts When It's Wet", driven by stellar Revue drummer, the late Crusher Greene (who also powered Wilson Pickett's live show for 20+ years). Albert's sly vocal ("Baby, you really make my sweet tooth ache. . . ") and blistering Telecaster runs are instantly recognizable. On "I'm Dealin'", another custom-job for Albert that's a funky blues-with-a-bridge, the gambling metaphors (". . .you've been dealin' off the bottom, lettin' me win a few. . .") are also in-joke references to Collins' adopted home, Las Vegas.

Bernard Fowler has sung backups for Mick Jagger and the Rolling Stones since the 80s, and worked with Herbie Hancock, Tackhead, Booty Collins, and a host of other ace acts. Bernard is a soul singer supreme, and here he turns in memorable performances on two rare soul cuts the Uptown Horns chose for him to slay.

Mike Bloomfield wrote the ballad "You Don't Realize" for Buddy Miles to sing when they were together in the Electric Flag (the premier soul/rock band of the late 60s), and Bloomfield also meant the song to be a tribute to Otis Redding, who had just passed away. Bernard makes the song his own, and brings passionate meaning to the standout lyrics (". . . all the money I made that you burned, was so hard to earn, it don't come from the sky. . . ").

On the Darrell Banks/Northern Soul classic, "Open The Door to Your Heart", Fowler matches the Horns soulful attack on this chestnut, and from postings on YouTube and the soul blogs, it's clear that many hard-core soul fans have compared this version favorably to the mid-60s original. And if that weren't enough soul heaven on one track, at 2:15 Bob Funk turns in a bedrock r&b trombone solo that takes the song to an even higher level for the sublime ride out on the chorus.

The third cover song the Uptowns laid on Bernard to sing is one that was actually never released before this version: "Imaginary People". Producer Dan Hartman and Charlie Midnight wrote the song as a potential followup to their #1 hit for James Brown, "Living in America" (on which the Uptown Horns performed and arranged all the horn parts and saxist Crispin Cioe played the alto solo). The story was that Mr. Brown declined to record the song because the lyrics mentioned "too many other famous people. . . ", so the tune languished, unrecorded. But a few years later, the Horns thought it would be perfect for Bernard to sing on their album, so voila! Check out the funk here, in the horn section and on Crispin's uptempo solo reprise. . . . 'nuff said.

Soozie Tyrell has risen to international stardom as the violinist/guitarist/vocalist with Bruce Springsteen & the E Street Band. Since her earliest arriving in NYC, she was a friend and associate of the Uptown Horns, often performing with the Revue, and she sings two of their originals here with real passion and tremendous personality. "Tell Me What You Want" is a tender-tough groover with a subtly burning guitar solo by Danny Draher (Otis Rush, Lucky Peterson).

"Marylou's" is an uptempo swing-shuffle about a real-life (but sadly, now-shuttered) Manhattan restaurant-bar that was a combination celebrity-hang/top-notch pasta joint/meetup for modern-day Damon Runyonesque characters that could only exist in Gotham. This song swings so hard that it has been used as an underscore for numerous radio/TV shows, and Soozie's vocal has the driving force that is her hallmark as a world-class musician, as she opens with "There's a swingin' little joint I go to, it's on the edge of town, where the cool go congregatin', whenever Friday rolls around. . . ".

Here also the Uptown Horns' renowned arranging savvy is in full view, as the section layers on thick and juicy slabs of sectional parts that build to a feeding frenzy of hard-driving brass. Bassist Tony Garnier (who is also Bob Dylan's musical director for the past two decades) pilots the song expertly with eight-notes that swing deeply and subtly, as if channeling The Chesterfield Club on 18th St. & Vine in Kansas City, circa 1936. Pianist Charlie Giordano (who is now also a member of the E Street Band) delivers a stunning Thelonious Monk-meets-Otis Span solo, then Arno Hecht and Crispin Cioe deliver a knockout one-two punch on tenor and baritone sax solos, respectively. . . . "Marylou's, the joint is always jumpin'!"

And finally, "The Uptown Horns Revue" features the gifted Nashville-based soulman Ben Houston on two originals. "Never Goin' Down That Road Again" is a rueful tale of a love gone bad, that Ben delivers with grace and fire; also, check out Arno's incendiary sax solo on this song, which barrels in midway and sets a supercharged bridge/outro. "Odds Are Good That The Goods Are Odd", the album's final cut, features Ben on what might be called a philosophical disquisition on the unlikelihood of something that seems too good to be true. . . actually bein' true!"
Uptown Horns Revue Songs
| | |
| --- | --- |
| 1 | Sugar Melts When It's Wet |
| 2 | Never Goin' Down That Road Again |
| 3 | Imaginary People |
| 4 | Tell Me What You Want |
| 5 | Trust Me |
| 6 | You Don't Realize |
| 7 | Marylou's |
| 8 | I'm Dealin' |
| 9 | Open the Door to Your Heart |
| 10 | Odds Are Good That the Goods Are Odd |