Crispin & Friends performs regularly at The Horseshoe Cafe in Southport, Connecticut.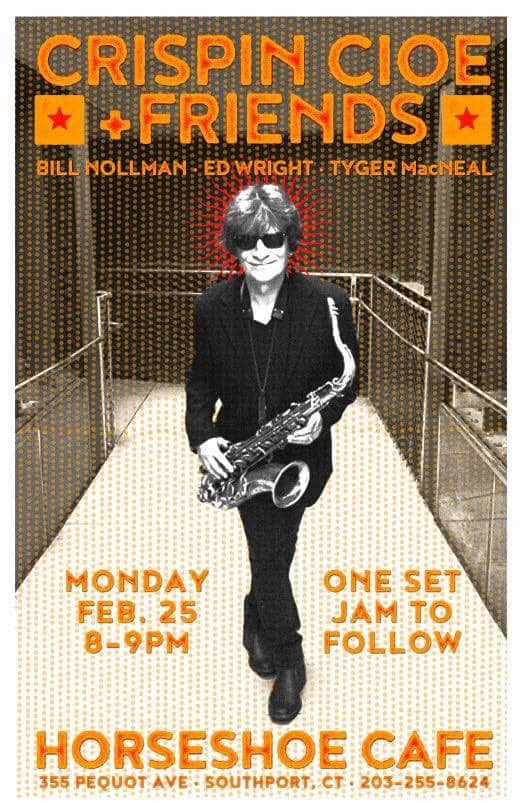 The quartet returns for a set of high-tone musical shenanigans from 8pm-to-9pm on February 25th. The band features saxophonist Crispin Cioe with Bill Nollman on guitar and vocals, Ed Wright on bass and vocals, and Tyger MacNeal on percussion.
Crispin is one of Connecticut's most accomplished musicians. He is a renowned music director, saxophonist, bandleader, composer, and songwriter who has played, and recorded with James Brown, the Rolling Stones, Solomon Burke, Darlene Love, Tom Waits, Ray Charles, Cameo, Robert Palmer, Bronski Beat, the Ohio Players, Usher, and Cameo. Crispin rose to fame as an original member of the legendary Uptown Horns, the NYC-based quartet with Arno Hecht, Bob Funk and Larry Etkin.
In addition to playing and touring with rock stars and locally with Crispin & Friends, Crispin has created original music. The features 3 albums: Soul Noir by Crispin Cioe and featuring Cracked Ice, a band created by Crispin; the soundtrack for the movie Burnzy's Last Call by Crispin Cioe; and The Uptown Horns Revue, the album created by the horn section called the Uptown Horns which Crispin co-founded. Crispin's store shares links below where you can listen to the music as well as stream or purchase the songs.
The Horseshoe is located at 355 Pequot Avenue in Southport, Connecticut. The Horseshoe Cafe is a restaurant and pub based in downtown Southport, Connecticut. featuring live music, happy hour, and pub-fare.
Hall-of-Fame Saxophonist
Crispin has played on more than 300 albums. As a co-founding member of the legendary horn section The Uptown Horns, Crispin Cioe has been inducted into the Blues Hall of Fame in NYC. In addition, in June, 2022, all 4 Uptown Horns were inducted individually into the New England Music Hall of Fame.
Crispin & Friends Video
Check out Crispin Cioe Saxophone Solo from the Horseshoe.