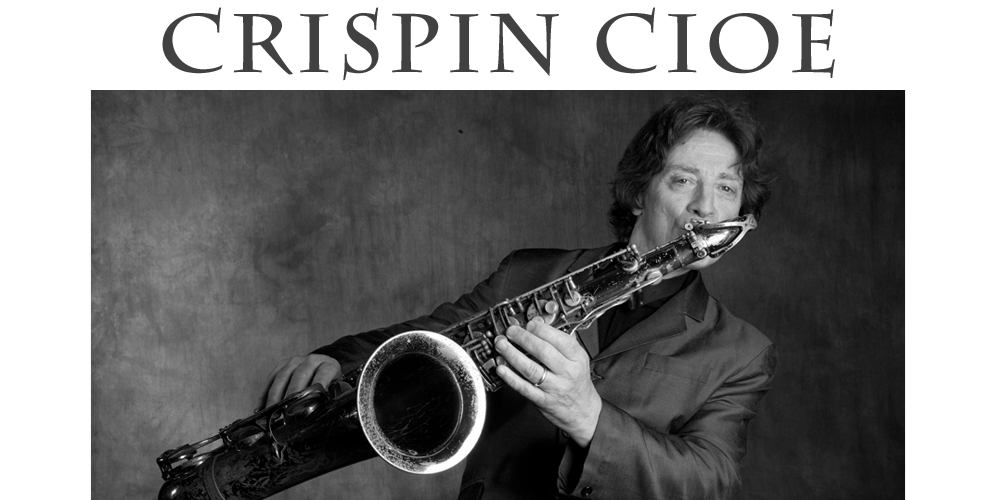 Crispin Cioe Biography
Saxist/songwriter/producer Crispin Cioe has left an indelible imprint on American/ British roots and pop music, through his work as a soloist (viz. sax solos on James Brown's "Living in America", "Love & Money" by Bronski Beat, etc.), being a co-founding member of the esteemed Uptown Horns (recording/tours with icons like the Rolling Stones, Solomon Burke, Tom Waits, Ray Charles, Ohio Players. . . ), music directing for TV (including "The Kennedy Center Mark Twain Prize for Humor" and "The Library of Congress Gershwin Prize for Songwriting, Live From The White House"), and by dint of a lifelong commitment to workin' it hard every time he's hit the stage playing tenor and/or alto, baritone and soprano saxophone.
Motor City Born
Crispin was born in Detroit, Michigan at Harper Hospital, then moved to downtown Chicago (where as a little boy he often heard the blues greats playing outdoors on nearby Maxwell St.). His family eventually moved back to the Detroit area, just as the Motown era was kicking off. He played clarinet, washboard (thimble-style), Clorox bottle, and sang in his high school jug band, The Milk River Sheiks, whose members included future blues star James Montgomery.
Crispin studied creative writing and film at University of Michigan, then music/saxophone at Wayne State University and Berklee School of Music, after which, he hit the streets, eventually migrating to NYC. For several years, Crispin split his time performing live/recording with a variety of artists (Duane Eddy, Carolyne Mas, Steve Forbert, James Montgomery Blues Band, Tom Rush, Geoff Muldaur) and doing music journalism/liner notes for such as Soho Weekly News, Playboy, High Fidelity, Prestige Records, The Detroit Free Press, and Musician Magazine.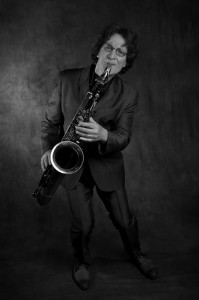 Going Uptown New York City
In 1980, Crispin and three other horn players (Arno Hecht, Bob Funk, and Paul Litteral, who was eventually replaced by Larry Etkin) formed the Uptown Horns, starting with a weekly event at Tramps nightclub on E. 15th St., "The Uptown Horns Party", that ran for two years, and featured many special guest artists as they passed through Gotham (including Solomon Burke, Rufus Thomas, Mitch Ryder, Elvis Costello, Wayne Kramer, Dennis Coffey, David Johansen, Dr. John, Southside Johnny, Clarence Clemmons, Buster Brown, Iggy Pop, and many others).
The Uptown Horns emerged from this period with their first significant gigs and sessions as a section, including an acclaimed live album with Solomon Burke ("Soul Alive"), and tours/recording with the ascendant J. Geils Band ("Freezeframe" tours, "Showtime" LP). The Uptowns went on to tour/record with a wide variety of top-tier artists, including The Rolling Stones ("Steel Wheels"), Peter Wolf ("Sleepless", "Midnight Souvenirs", "Fool's Parade" LPs), James Brown ("Living in America", "Gravity" LP), Joe Cocker ("Unchain My Heart"), Buster Poindexter ("Hot Hot Hot", etc.), James Montgomery Band ("From Detroit To The Delta" LP), B-52s ("Love Shack"), Tom Waits ("Rain Dogs"), Bronski Beat ("Age of Consent" LP), Iggy Pop ("Party" LP), The Communards, Cameo ("Word Up"), Joan Jett ("I Hate Myself For Loving You", etc.), Ohio Players ("Live" lp), Albert Collins ("Cold Snap", "Iceman" LPs), Robert Plant & The Honeydrippers, Robert Palmer, and many more.
As a soloist, Crispin continued to record/tour with Mink DeVille/Willy DeVille, Dusty Springfield ("Send It To Me"), The The ("Uncertain Smile"), The Manhattans ("You Send Me"), Debbie Harry ("French Kissin' in the USA"), Lou Gramm ("Ready or Not" lp), Keith Richards ("Main Offender"), Screamin' Jay Hawkins, Scissor Sisters ("Laura", "Mary", "She's My Man", "Paul McCartney"), Luther "Guitar Jr." Johnson, and more. Besides playing sax solos on film soundtracks (including the "barroom scene" in the Coen Bros.' debut "Blood Simple"), Crispin has scored/arranged/composed songs for indie films "Burnzy's Last Call," "The Real Blonde," "Red Lipstick" and "5 Wives, 3 Secretaries, and Me." His songs and underscores have been featured in a variety of well-known cable TV series (including "Shameless", "Blade, The Series", "Good Guys", "Terriers", Ruby and the Rockits", and "Memphis Beat").
For television, Crispin has served as musical director for a variety of programs, starting in the 90's with "Buster's Happy Hour" on VH-1. Since 2010, he has been the music director for PBS' "Kennedy Center Mark Twain Prize for Humor" (most recently, honoring Ellen DeGeneres in 2012), and in May, 2013, Crispin was co-music director for "The Library of Congress Gershwin Prize for Popular Song" honoring Carole King, taped before a live audience at the White House, and including guest star performers James Taylor, Billy Joel, Emeli Sande, Trisha Yearwood, Jesse McCartney, and Gloria Estefan.
In the late-90s Crispin's started his band Cracked Ice, which has developed into a multi-platform springboard for various facets of his music and business. Crispin wrote/arranged/produced the band's debut album "Soul Noir" (which music the band has performed live at festivals and clubs), developed the group into an ace backup unit for live performance (for Al Kooper, James Montgomery, Billy Squier and others), a potent ensemble for live TV ("The Kennedy Center Mark Twain Prize for Humor" for PBS), and (in a parallel universe) one of the premier party bands in America today.
Crispin lives in Connecticut with his wife, Krista Bradford, and their dog, Frankie. Their daughter Katharine Cioe is a 2nd-year med student.